DSPECIALISTS' distribution partner Guangzhou Ruisheng Audio & Lighting Equipment Co, Ltd has equipped the new Buddhist center in the city of Zhousan, China with HARVEY®.
Berlin, 16.11.2020 - In the new ultra-modern Buddhist center in the Guanyin Dharma Empire, in the scenic Baishan area of Zhujiajian, in the city of Zhoushan, a "spiritual landmark" was created as a home for all believers of Guanyin according to a Buddhist concept.
The architectural style integrates the characteristics of traditional Chinese pavilions and modern high-rise technology as well as contemporary Buddhist art. Leading the trend of contemporary Buddhism, the center offers space for large-scale religious activities, group seminars, high-profile conferences, themed exhibitions, and festival performances. It integrates religion, art, study, sightseeing, and propaganda and has become an architectural and cultural landmark in the Quan Yin Dharma world.
The building, in which no photos may be taken, extends over 9 floors. On 8 of the 9 floors, HARVEY has been installed which processes and distributes the audio signals on its floor.
Besides the high quality of the product HARVEY (Made in Germany), an important feature for the customer was the simplicity of programming. Especially the comfortable protocol conversion of HARVEY via the protocol H-Text to the control software of the Chinese end customer was highly appreciated during the installation of the system. Each command sequence of a 3rd part product can be transferred to the HARVEY control via copy/paste, which allows easy communication in both directions.
Another highlight from the customer's perspective was the high number of control interfaces that can be operated per device.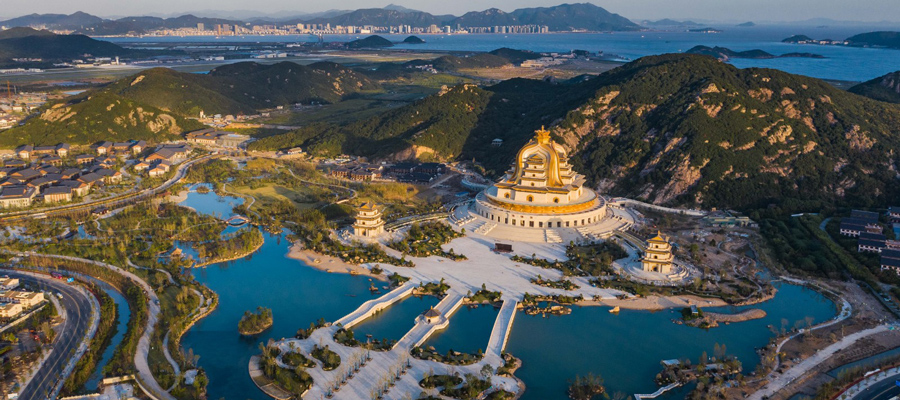 ---
ABOUT DSPECIALISTS:
DSPECIALISTS Digitale Audio- und Messsysteme GmbH was founded in 2003 with its headquarter in Berlin. The company is specialized in the development and sale of products for digital audio signal processing and measurement technology. In addition to numerous customer-specific projects, DSPECIALISTS develops and markets its own product family HARVEY®, a flexible audio and media control matrix that is available in various versions.
Recent Studies
Studies Search