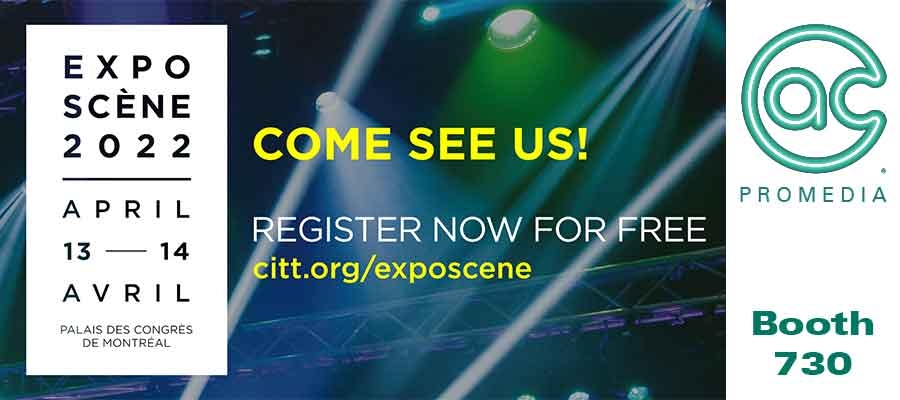 A.C. ProMedia, distributor of state-of-the-art products and solutions aimed at the commercial and pro-AV installation markets, is excited to be participating in their first Canadian Tradeshow, at Expo Scene.
Join us in booth 730 as we introduce the Canadian Market to AUDAC, Belgium based pro audio manufacturer. We will be hosting live sound demonstrations of AUDAC's innovative audio solutions throughout the event.
Luminex manufactures data distribution equipment for audio, video, and lighting applications. They are well known for their GigaCore family of switches, LumiSplit, and LumiNode family. Stop by booth 730 for a live demonstration of Luminex's product line.
EXPO-SCÈNE is returning to Montreal in 2022! This event is the only major Canadian event dedicated to professionals in the pro audio, sound, lighting, audiovisual, video, and multimedia technologies. A.C. ProMedia is excited to be one of the most renowned industry distributors to exhibit under one roof, at the Palais des congrès de Montréal on April 13 and 14, 2022.
For more information on the AUDAC range of innovative audio solutions and Luminex Switches please visit www.acpromedia.com.
---
Don't forget to follow A.C. ProMedia on Social Media:
| | | | |
| --- | --- | --- | --- |
| | | | |
---
ABOUT A.C. ProMedia
A.C. ProMedia offers multimedia products and solutions (Audio-Video-Lighting-Control-Networking) aimed at the Fixed Installation & Architainment Markets, through Consultants, Design Groups, and Systems Integration channels.
• Architecture • Corporate Media • Consultant Groups • Municipalities • Hospitality • Theme Parks • Sports Venues • Public Space • Retail Space • Cruise Ships
A.C. ProMedia is the North American distributor for AUDAC innovative audio solutions, and Luminex Network Intelligence manufacturer of data distribution equipment.
For more information visit www.acpromedia.com or call 1-855-324-9354
ABOUT AUDAC
It is what we experience through our senses that make life meaningful. In fact, it can be said that through the qualities in speech and music we experience, we become familiar with the higher values of life.
This is just one of the reasons why at AUDAC you will find a passion for sound. Each speaker, audio matrix, or amplifier solution we develop expresses that same inspiration and quality that exceeds users' expectations, making it no coincidence our success results from exploring new methods and ideas beyond conventional boundaries.
For more information visit www.acpromedia.com/audac or call 1-855-324-9354.
ABOUT LUMINEX NETWORK INTELLIGENCE
Luminex Network Intelligence is a Belgian-based manufacturer of data distribution equipment for professional lighting, audio, and video applications. Luminex enables AV professionals in the entertainment industry to use the latest technology confidently. Luminex offers a complete range of network switches, converters/nodes, and DMX splitters, providing AV designers and technicians with cutting-edge technology to build a complete data distribution system from small to large events or venues. Luminex commits to making it as easy as possible to deploy a professional AV network, even without IT knowledge.
Luminex's plug-and-play GigaCore switches do exactly that. They are completely pre-configured to transport all common-used lighting and audio protocols, such as Art-Net, sACN, MANet, Dante™, AES67, PTP V2, AVB, and many more. For more information visit https://acpromedia.com/luminex/.
Recent News
News Search