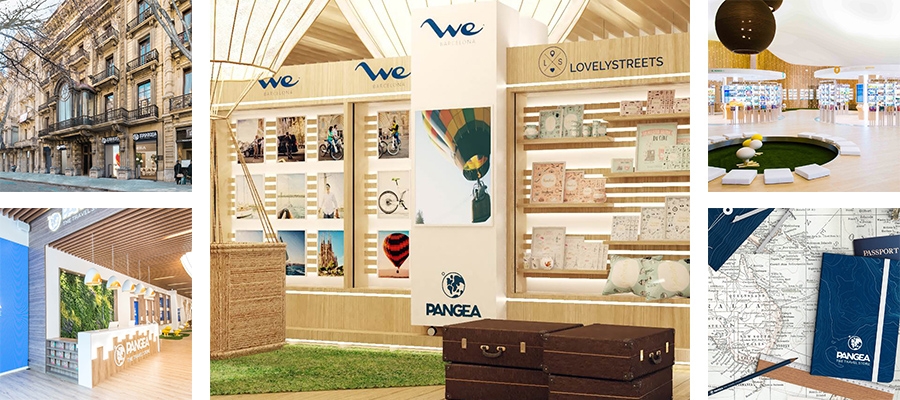 BARCELONA, SPAIN
Pangea, "the world's largest travel store", has recently opened a new store in Barcelona which has been fully equipped with an AUDAC audio installation. The store has more than 1.700 m² of travel inspiration available for everyone. They exceeded all expectations when they welcomed over 17 000 visitors in the first three days alone. "The trip begins before taking a plane, it begins with the organization and the illusion it generates, so our goal is that the traveler finds in Pangea the perfect place to get inspired, have fun and, why not, book a trip or buy any item you need for an escape, "says the CEO of the company, David Hernandez.
In the store, you can find travel items, a bookshop, even a restaurant called "La Colosal". They work together with many major well-known brands such as National Geographic and Samsonite. In the store, there are 30 advisors to help create your dream trip. Even when you are already on your journey they deliver 24/7 assistance.
To create an even more inspiring experience in the store they have chosen for a full AUDAC installation on the advice of Spanish installer Lightsound. 10 ATEO4 and 2 ATEO6 wall loudspeakers together with 2 XENO8 Full range loudspeakers are making sure the visitors can fully enjoy their inspiring visit with clear and suiting background music throughout the store. Thanks to their elegant and stunningly design of the ATEO's they fit perfectly in this modern store.
2 BASO10 bass-reflex cabinets make sure that the beautiful sound of the ATEO4 and ATEO6 speakers are accompanied by a powerful bass. 3 EPA104 Quad-channel amplifiers along with the EPA152 and CAP224 dual-channel amplifiers are used to power the speakers throughout the various areas of the store.
The visitors of Pangea can now, thanks to a full AUDAC installation, enjoy their inspiring trip through the store of Pangea even more.
PRODUCTS USED:
Are you looking for advice on a custom audio project?
Feel free to contact and challenge us to provide you with a complete AUDAC solution.
---
This case study was posted with permission from AUDAC. To view, the case study click here.
ABOUT AUDAC
It is what we experience through our senses that make life meaningful. In fact, it can be said that through the qualities in speech and music we experience, we become familiar with the higher values of life.
This is just one of the reasons why at AUDAC you will find a passion for sound. Each speaker, audio matrix or amplifier solution we develop expresses that same inspiration and quality that exceeds users' expectations, making it no coincidence our success results from exploring new methods and ideas beyond conventional boundaries.
For more information visit www.acpromedia.com or call 1-855-324-9354
Recent Studies
Studies Search