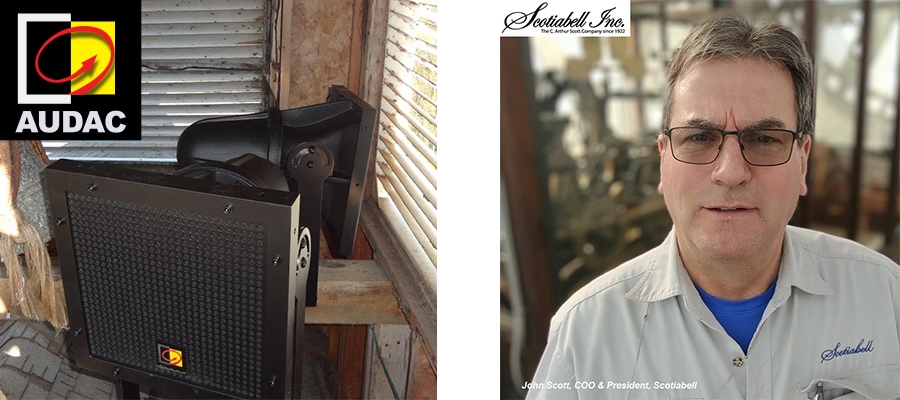 Dear A.C. ProMedia;
Scotiabell was first introduced to the "Audac, 2-Way Horn Outdoor Loudspeakers" in 2004 by Campa of Belgium. We had contacted Campa regarding our repairing the automation of the 50 cast bell carillon at Exhibition Place in Toronto. When telephoning Belgium, I was placed on hold and treated to carillon melodies. A representative came on the phone, to whom I complimented on their cast bell music, which to my surprise, doubt and delight was told the cast bell sounds were synthesized by their Digital Bell system. It was not easy to dupe me because I've been in this business for 36 years and I've heard them all. After picking my jaw up from the floor, I knew this to be the best digital bells in the world. Now we are the Canadian distributor for these bells.
Campa is very proud of their Digital Bells and so is Scotiabell. If you have the best cast bell sound, you need the best speakers to reproduce those tones. They researched and paired their system with the Audac, 2- Way Horn Outdoor Loudspeakers. Together the sound is remarkable! When the speakers are installed behind the louvers of a church tower, parishioners believe it is full of cast bells - The sound is that realistic.
The Audac speakers are the best I have heard to use with our Campa Digital Bells. They might look a little different, but they sound a lot different! I hear Audac speakers daily that were installed on a church roof back in 2008 and they sound just as good today.
Sincerely,
Scotiabell Inc.
John Scott, COO & President
Tower Clock Horologist/Campanologist
Recent Studies
Studies Search