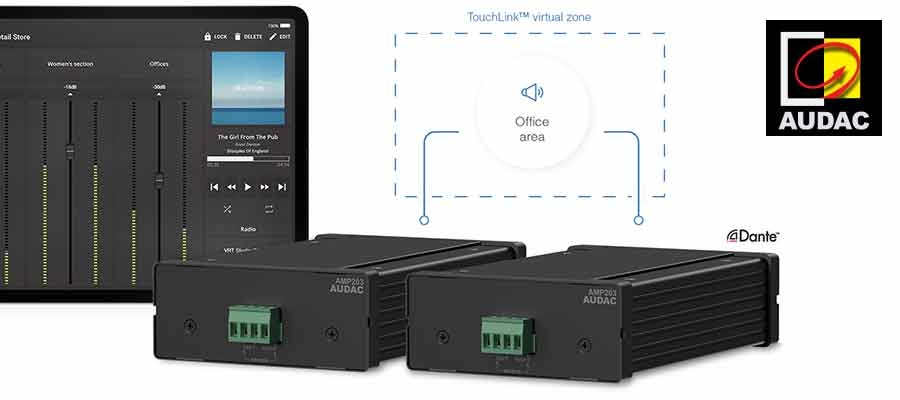 At AUDAC, a team of professionals is continuously looking for new technologies to make our solutions as installer-friendly as possible. As a result of this, our new AMP203 Dante mini stereo amplifier will come equipped with a brand-new innovation called TouchLink™.
TouchLink™ is an ingenious system that can be used for creating virtual zones by linking multiple TouchLink™ compatible devices with each other. In AUDAC Touch™ 2 you can select multiple devices or amplifier channels that should react to the user as one zone.
A typical application example is a large open area where multiple (compatible) amplifiers are used. When they are virtually linked, all devices or amplifier channels with the same TouchLink™ assigned zone will be following each other's settings (including volume, input, muting, ...).
It means, if they are all installed throughout the same area, they all will be simultaneously operated by one single control (e.g. volume fader) from the AUDAC Touch™ 2 app. Additionally, a wall panel that is physically connected to one of the linked devices will automatically control all the linked devices.
A number shall be assigned as a TouchLink™ zone (e.g. 1, 2, 3, ...) and all devices with the identical TouchLink™ ID will virtually work as one zone.
A.C. ProMedia recently announced its partnership with AUDAC as the new exclusive distributor of AUDAC's innovative audio solutions in North America. A.C. ProMedia will be managing the sales, distribution, and service of the complete AUDAC product line in North America from their offices in Toronto.
To learn more or schedule a demo, please visit our website www.acpromedia.com/audac/
---
Don't forget to follow A.C. ProMedia on Social Media:
---
ABOUT A.C. ProMedia
A.C. ProMedia offers multimedia products and solutions (Audio-Video-Lighting-Control-Networking) aimed at the Fixed Installation & Architainment Markets, through Consultants, Design Groups, and Systems Integration channels.
• Architecture • Corporate Media • Consultant Groups • Municipalities • Hospitality • Theme Parks • Sports Venues • Public Space • Retail Space • Cruise Ships
A.C. ProMedia is the North American distributor for AUDAC innovative audio solutions, Luminex Network Intelligence manufacturer of data distribution equipment Harvey by DSpecialists media control matrix, Chroma-Q® LED lighting, PROLIGHTS high value and high-performance range of lighting, video and effects products, LumenRadio wireless lighting controls and Prolyte staging and trussing.
For more information visit www.acpromedia.com or call 1-855-324-9354
ABOUT AUDAC
It is what we experience through our senses that make life meaningful. In fact, it can be said that through the qualities in speech and music we experience, we become familiar with the higher values of life.
This is just one of the reasons why at AUDAC you will find a passion for sound. Each speaker, audio matrix or amplifier solution we develop expresses that same inspiration and quality that exceeds users' expectations, making it no coincidence our success results from exploring new methods and ideas beyond conventional boundaries.
For more information visit www.acpromedia.com/audac or call 1-855-324-9354.
Recent News
News Search