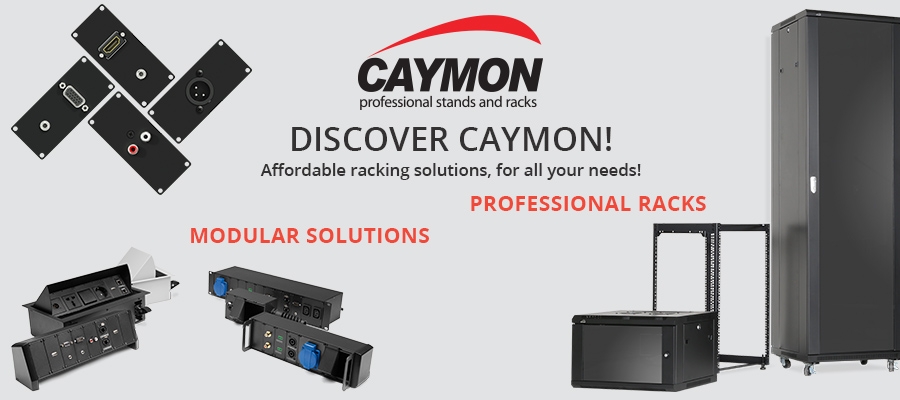 A.C. ProMedia, distributor of state-of-the-art products and solutions aimed at the commercial and pro-AV installation markets, is pleased to announce its partnership with CAYMON as the exclusive North American distributor. CAYMON manufactures professional installation rack equipment, CASY Modular Solutions, and accessories. A.C. ProMedia will be managing the sales, distribution, and service of the CAYMON product line in North America from their offices in Toronto.
CAYMON offers an impressive range of high-quality racks and 19" appliances that have been designed with professional installations in mind. CAYMON racks are ideal for audio installations, networking equipment, or computer servers, including AUDAC and Luminex products. Manufactured using 2mm cold-rolled steel with an elegant powder-coated finish.
CASY Modular Solutions are completely customizable to meet your client's unique specifications. Choose your chassis (wall mount or table mount), and choose your CASY modules to design a customized panel, inside your rack. Available in a variety of versions, sizes, mounting options, and depths, the range of modules is truly diverse. You have a choice of audio, video, and data connectivity, solderless pre-built modules. Link through audio, video, and data connectors on the back, with CAYMON's specially designed-clamp system and hexagon key, you can easily install this product line.
"The CAYMON product line allows A.C. ProMedia to offer our clients a rounded product line," explains Franck Fabry, VP of Sales. "CAYMON cabinets and CASY modules offer our clients an elegantly designed rack cabinet and limitless possibilities for connecting their AV equipment. They align nicely with our existing product lines for AUDAC and Luminex, offering you a one-stop shop for sound, networking, and cabinets."
Managing the product line will be Shane Shah, newly appointed as Brand Manager for both the CAYMON and AUDAC brands. Please reach out to Shane at Shane.Shah@acpromedia.com or 1-855-324-9354 ext. 236, or stop by an event to say hello.
CAYMON products will be on display at Expo-Scene, in Montreal, Quebec, and InfoComm, in Orlando, Florida. Stop by A.C. ProMedia's booth to see these elegant cabinets and customizable modules for yourself.
---
Don't forget to follow A.C. ProMedia on Social Media:
| | | | |
| --- | --- | --- | --- |
| | | | |
ABOUT A.C. ProMedia
A.C. ProMedia offers multimedia products and solutions (Audio-Video-Lighting-Control-Networking) aimed at the Fixed Installation & Architainment Markets, through Consultants, Design Groups, and Systems Integration channels.
• Architecture • Corporate Media • Consultant Groups • Municipalities • Hospitality • Theme Parks • Sports Venues • Public Space • Retail Space • Cruise Ships
A.C. ProMedia is the North American distributor for AUDAC innovative audio solutions, and Luminex Network Intelligence manufacturer of data distribution equipment.
For more information visit www.acpromedia.com or call 1-855-324-9354
ABOUT CAYMON
At CAYMON we offer a vast range of installation products, ranging from racks, microphones, music, and speaker stands to brackets, flight cases, adaptors, soft bags, and accessories.
At CAYMON we strive for the highest quality. We are constantly developing our product range to offer you the best solutions. Our broad range reflects the great diversity of our customers and their applications, which vary from churches to concert halls, from nightclubs to cultural centres, and from individual musicians to symphonic orchestras.
For more information visit https://caymon.eu or www.acpromedia.com or call 1-855-324-9354.
Recent News
News Search