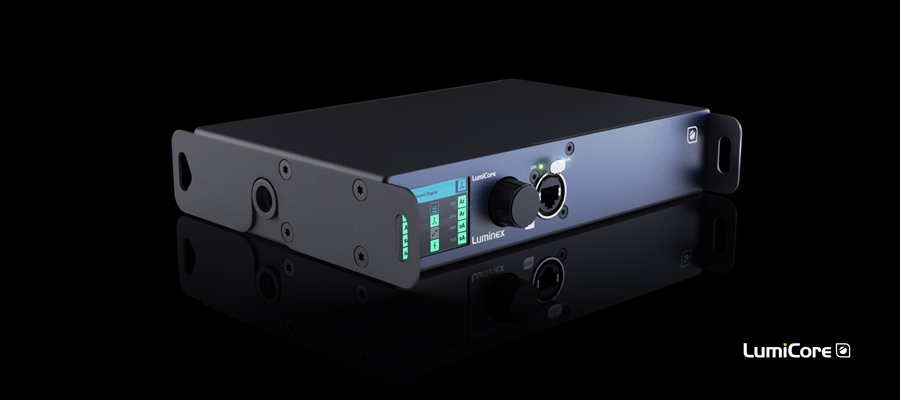 Flexible control of network Lighting data from multiple sources
Luminex Network Intelligence is delighted to introduce the LUMICORE, the newest addition to the LUMINODE family. Designed to allow simple, flexible control of network Lighting data from multiple sources. LUMICORE routes, merges, converts, restricts and, allows multiple streams of ArtNet and sACN data from multiple sources to be managed in a clear intuitive way.
Designed to provide simple management of the increasingly complex task of integrating different network lighting elements, LUMICORE is ideal for easily managing multiple lighting consoles at a festival, routing lighting control from gallery to studio in TV, integrating remote follow spot systems into a lighting system, including Follow-Me's Remote Tracking Follow Spot System, separating Lighting data from a venue IT infrastructure, or merging media server data for pixel mapping large LED arrays.
LUMICORE features 64 process engines, each manipulating multiple universes of lighting data, and allowing converting, merging, routing, or backup. LUMICORE is built into a robust housing taking just half the width of a single 19" 1U rack slot, or capable of being mounted on truss.
LUMICORE follows the core LUMINEX philosophy of making complex network tasks easy to manage, designed for the lighting professional.
The LUMICORE will be available in June through Luminex's North American distributor A.C. ProMedia For more information, visit www.acpromedia.com/lumicore
---
Don't forget to follow A.C. ProMedia on Social Media:
---
ABOUT A.C. ProMedia
A.C. ProMedia offers multimedia products and solutions (Audio-Video-Lighting-Control-Networking) aimed at the Fixed Installation & Architainment Markets, through Consultants, Design Groups, and Systems Integration channels.
• Architecture • Corporate Media • Consultant Groups • Municipalities • Hospitality • Theme Parks • Sports Venues • Public Space • Retail Space • Cruise Ships
A.C. ProMedia is the North American distributor for Chroma-Q® LED lighting, AUDAC inspiring sound solutions, Harvey by DSpecialists media control matrix, Luminex Network Intelligence manufacturer of data distribution equipment, PROLIGHTS high value and high-performance range of lighting, video and effects products, LumenRadio wireless lighting controls and Prolyte staging and trussing.
For more information visit www.acpromedia.com or call 1-855-324-9354
About Luminex Network Intelligence
Luminex Network Intelligence is a Belgian-based manufacturer of data distribution equipment for professional lighting, audio, and video applications. Luminex enables AV professionals in the entertainment industry to use the latest technology confidently. Luminex offers a complete range of network switches, converters/nodes, and DMX splitters, providing AV designers and technicians with cutting edge technology to build a complete data distribution system from small to large events or venues. Luminex commits to making it as easy as possible to deploy a professional AV network, even without IT knowledge.
Luminex' plug-and-play GigaCore switches do exactly that. They are completely pre-configured to transport all common-used lighting and audio protocols, such as Art-Net, sACN, MANet, Dante™, AES67, PTP V2, AVB, and many more. For more information visit www.luminex.be.
Recent News
News Search