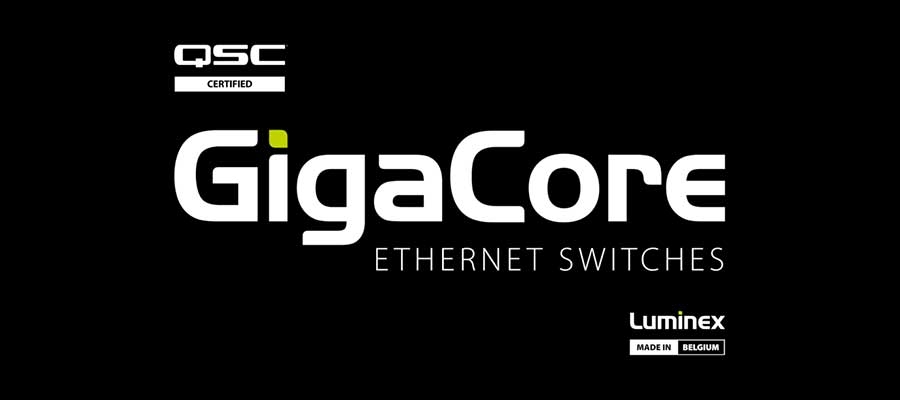 Luminex GigaCore product range obtains Q-SYS Network Switch Qualification
Worldwide - Luminex Network Intelligence is proud to announce that Luminex's complete GigaCore network switches product line has been awarded the "Q-SYS Network Switch Qualification" by IOL (University of New Hampshire Interoperability Laboratory). The lab has partnered with QSC to offer independent network switch qualification services. This means that the entire range of GigaCore can be confidently and seamlessly deployed meeting all performance recommendations on a network where Q-SYS is part of the ecosystem.
GigaCore is well-known with its forward-looking functionalities, such as the pre-configured groups (VLAN) for most AV protocols; out of the box RlinkX system to create redundant links in a truly plug and play manner and optimizations in place by default. As a flagship product from Luminex, GigaCore is also designed to cope with the most demanding AV installations. From tour to fixed installation, the switches have been used worldwide.
Luminex is continuously striving for cooperation and interoperability throughout the entertainment, audio, and video industry. With the constant growth in network technology and to uphold the tradition of continuous innovation, we will constantly explore new technology and design the most versatile network equipment to serve the industry. Please subscribe to Luminex Newsletter here for the latest information about Luminex.
The entire Q-SYS approved switch list including GigaCore can be consulted here:
https://www.iol.unh.edu/registry/q-sys-qualified
A.C. ProMedia distributes Luminex's products in North America.
---
Don't forget to follow A.C. ProMedia on Social Media:
---
ABOUT A.C. ProMedia
A.C. ProMedia offers multimedia products and solutions (Audio-Video-Lighting-Control-Networking) aimed at the Fixed Installation & Architainment Markets, through Consultants, Design Groups, and Systems Integration channels.
• Architecture • Corporate Media • Consultant Groups • Municipalities • Hospitality • Theme Parks • Sports Venues • Public Space • Retail Space • Cruise Ships
A.C. ProMedia is the North American distributor for AUDAC innovative audio solutions, Luminex Network Intelligence manufacturer of data distribution equipment Harvey by DSpecialists media control matrix, Chroma-Q® LED lighting, PROLIGHTS high value and high-performance range of lighting, video and effects products, LumenRadio wireless lighting controls and Prolyte staging and trussing.
For more information visit www.acpromedia.com or call 1-855-324-9354
About Luminex Network Intelligence
Luminex Network Intelligence is a Belgian-based manufacturer of data distribution equipment for professional lighting, audio and video applications. Besides Ethernet-to-DMX converters & DMX/RDM splitters for lighting control projects, Luminex also produces Ethernet switches, enabling users to build a complete data distribution system for all types of AV applications. The GigaCore switches are, like almost every other Luminex device, truly plug-and-play products that provide an excellent solution to expand an AV network in a very user-friendly way, without needing any IT knowledge. Luminex products can be found in the most demanding installation, theatre and touring AV applications worldwide.
For more information visit www.acpromedia.com/luminex or call 416-255-9494
Recent News
News Search