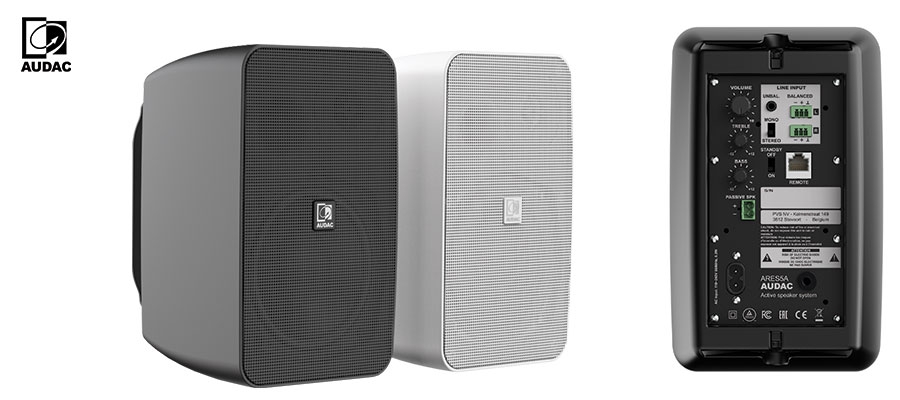 Why choose the AUDAC ARES5A as your next 2-way active speaker system?
1) Variety of inputs
The ARES5A stereo active speaker system is equipped with a wide range of both balanced and unbalanced inputs, which allows a convenient connection to any kind of audio source.
2) Sleek design
Did you know the ARES5A stereo active speaker system is designed in an ABS enclosure while the recessed mounting bracket blends aesthetically into the cabinet itself, ensuring a modern and sleek outlook?
3) Versatile mounting options
Did you know the ARES5A stereo active speaker system can be mounted both horizontally as vertically with an inclination up to 45° on both sides, enabling the position of the loudspeaker in the right direction? Due to the fact that the bracket itself consists of 2 45° corners, installation in corners or even ceiling can easily be achieved.
4) Clear and powerful sound experience
Did you know the ARES5A stereo active speaker system is constructed out of a high-quality 5 ¼" woofer and ½" high-frequency tweeter? This craftsmanship in combination with an integrated DSP is creating an extremely clear and powerful sound experience.
5) MBK455 mounting bracket
Di you know an optional MBK455 90° bracket makes it possible to fit up the ARES5 stereo active speaker system easily to the ceiling or even mount it to a smartboard or trolley?
6) Wide range of applications
Did you know that due to its versatility, the ARES5A stereo active speaker system creates an all-in-one solution for a wide range of applications, including educative, corporate, and even residential environments?
7) Energy star compliant
Did you know the amplifier which is integrated into the ARES stereo active speaker system switches to standby mode when no signal is recognized? This ensures the energy consumption reduces to less than 0.5W, making the loudspeaker energy star compliant.
8) Secure mounting
Did you know the ARES5A stereo active speaker system is equipped with M6 drop safety busing, ensuring optimum safety during and after installation?
9) Expand your inputs
Did you know the optional WP2xx series not only offers great controllability over the ARES5A stereo active speaker system but also enables us to expand our inputs largely? As an example, the WP205 universal wall panel, which is specially designed for the ARES series, offers the possibility to expand the inputs with a 3.5mm jack stereo line input connection and a balanced microphone input.
10) Configure up to 4 ARES sets with one single WP2XX
Did you know the user-friendliness of the WP2XX series goes even further than controlling a single ARES5 stereo active speaker system, as one wall panel, allows you to control and share inputs to up to four ARES sets and quickly change input and/or volume?
#ARES5A #AUDAC #Solutions #AVtweeps
---
Don't forget to follow A.C. ProMedia on Social Media:
| | | |
| --- | --- | --- |
| | | |
ABOUT AUDAC
It is what we experience through our senses that make life meaningful. In fact, it can be said that through the qualities in speech and music we experience, we become familiar with the higher values of life.
This is just one of the reasons why at AUDAC you will find a passion for sound. Each speaker, audio matrix or amplifier solution we develop expresses that same inspiration and quality that exceeds users' expectations, making it no coincidence our success results from exploring new methods and ideas beyond conventional boundaries.
For more information visit www.acpromedia.com/audac or call 1-855-324-9354.
Recent News
News Search